FAQ About the Medical Laboratory Assistant Program
How long is the Medical Laboratory Program?
Our program is 28 weeks in duration. 24 weeks in the classroom, and 4 weeks of practicum.
Is West Coast College of Healthcare a Designated School for student funding?
Yes, West Coast College is Designated by the Private Training Institutions Branch (PTIB). For additional information about the College, please contact WCC Administrative Office, #204 – 9648 128 Street, Surrey, British Columbia
604-951-6644 or call 1-800-807-8558.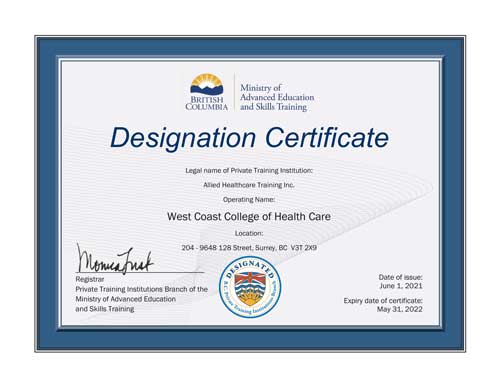 Does the West Coast College offer online courses?
No, there are no online courses offered by WCC at this time. We believe that face-to-face interaction is a core requirement for learning and skill development in the Medical Laboratory Assistant Program. Therefore, we require that our students come to class on a daily basis.
Do you provide a practicum for your students?
Yes, all students that successfully complete the classroom portions of the Medical Laboratory Assistant program will have a practicum in the Lower Mainland provided by West Coast College.
Do you have questions, or want more information? Call to speak to an admissions associate, or send us a message.